We recently visited the camel market in the desert just north of Hofuf in the al-Ahsa/al-Hasa district. Although the market is located in a desert area, much of the area around Hofuf consists of date farms that make up the largest oasis in Saudi Arabia. The area exports dates harvested from approximately 3 million date palm trees (source: Lonely Planet). We wanted a taste of the traditional Bedouin culture and thought our kids would enjoy seeing the camels at the market. When we got there, we saw that the market covers a huge area and it seemed to be well organized, with several spacious barns full of bales of hay for feeding the animals. There were stacks of rectangular bales as well as the rolled variety. There were also other animals for sale at the market, including sheep and goats.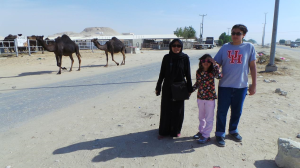 We passed one group of sheep huddled together on an open area of grass, probably unnerved by all the activity going on around them. The camels were of different colors; although most either had dark brown skin, and were very tall, or had long white fur. The white ones were not as tall as the dark brown ones, but they looked friendlier because of their fluffy fur. The camels we saw seemed to be fairly docile. We didn't see anyone being spit at, although we did hear the famous "camel call" that can make people jump if they are not used to the sudden elongated kind of gurgling noise. The main purpose of the market is to sell camels for their milk and meat, but there were some camels that the camel herders – many of whom are from the Sudan these days rather than local Bedouin – had dressed up with colorful ribbons and saddles for giving rides to tourists. Of the four of us, only my wife had the nerve to actually sit on one of the animals and enjoy the view from one of the "ships of the desert" as they were alluded to by Arab poets. I was happy to just take the photos and watch other people being taken for a ride. We had driven about an hour and a half to see the camels and then neither of our kids wanted to get near them, let alone ride on one! But they were fascinating animals and as we crossed the road to see some more camels, a long procession of them came jogging along the road, guided by a single herder who looked no older than about 12 or 13.
We watched them for a while as they trailed past us; some of the laggards broke into an awkward gallop to catch up with the others. They were very orderly and more or less followed one after another in a straight line. I didn't see where they were being moved to but I thought that perhaps they had been sold and were being taken possession of by their new owner. We watched them for a few more moments, then finished crossing the road. We then looked at a few more camels being held in large pens before heading off to see the fort (Ibrahim Palace) in Hofuf town center.
Ibrahim Palace or fort is located in the Al Kout neighborhood in the center of Hofuf. This city was the capital of the Eastern Province until 1953, which no doubt accounts for the existence of the fort and the large traditional souq. The fort was originally built by the Ottomans and includes buildings in different architectural styles. These buildings include the Al Qubba mosque, built in 974 AH/1577 AD, a barracks, a main lounge, commanders' residence, an ammunition storehouse and a steam bath (which we did not see).
Rather strangely, an ammunition storehouse is located near to the mosque. It is mostly underground, covered by a large dome roof. We went down the very steep steps to see the interior of the round building. The main store area had high walls and was well lit with a combination of small windows and electric lights. There was not much to see but the architecture was solid and impressive. The fort includes a museum with photographs that provide a window into the fort's history, as well as archeological artifacts such as pottery that was either imported into the area through trade or made locally. After enjoying a stroll around the fort we took a short walk to the old souq, which looked like it had recently been renovated because it was in very good condition.
Most of the traders could speak some English, so communication was not too difficult. We bought some of the local honey and looked at some of the Arab clothing on sale. My son wanted a traditional long Arab shirt (qamees) and we found a good quality one for 50 riyals (about US$14). The Hofuf souq was definitely worth a visit by itself and I'm sure we will visit it again. Next time I'll want to find a good café.
A local tour company, Al-Ahsa Tours, offers tours of the area. A sample itinerary can be viewed at bit.ly/1bd1hd5. There is also a detailed description of the Arabian camel at http://nabataea.net/camel.html.